Insights
Revised Rules and Regulations Governing the Administration and Enforcement of the Rhode Island Freshwater Wetlands Act Effective July 1st, 2022
At a Glance
On July 1st, 2022, the Rhode Island department of Environmental Management will launch substantial changes to its regulations concerning wetlands. Below, we have excerpted the key elements of these changes and answers to commonly asked questions.
If you have any questions about how these regulations will impact your project, contact Megan Elwell and Igor Runge.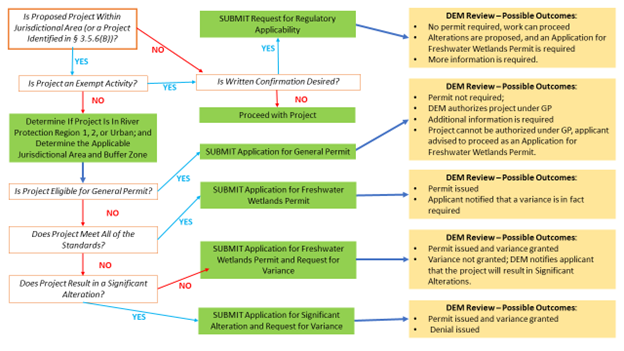 Purpose:
Strengthen wetland protection at state level & eliminate redundant effort at the municipal level
Expand jurisdiction area of state agencies & require standards for wetland buffers and setbacks
Re-define and clarify terminology to promote common terminology among DEM and CRMC
Establish new requirements for state agencies to share information with municipalities
Modified general permit process, new exempt activities, expand or clarify certain other exemptions, and simplify the application fee schedule
About sixteen percent (16%) of Rhode Island's land area consists of freshwater wetlands (rivers, streams, lakes and ponds, as well as swamps, marshes, bogs, and vernal pools) which are distributed throughout the state.
Overview:
In River Protection Regions 1 and 2, protection was strengthened by:
Increasing the buffer zones for headwater rivers, including cold water rivers as recognized as a need in the Legislative Task Force Report
Increasing the buffer zone on larger lakes and ponds that provide high recreational value and habitat functions and that currently have large amounts of intact shoreline buffer
Increasing the buffer zone around larger swamps, some of which are also part of valuable wetland complexes providing multiple habitats.
As practicable, buffer zone requirements were reduced in areas where existing land uses have already resulted in the alteration or loss of vegetated buffer. This applies primarily in the Urban Region.
What if I have already filed an application with DEM ? 
Freshwater Wetland applications accepted for filing prior to 7/1/2022 will be governed by the rules in effect at the time (DEM Part 1 Rules).
What if I filed an application before 7/1/2022 and I need to make changes to it to address DEM comments after July 1? 
The application would still be processed under the Part 1 rules. The new rules would not apply unless the changes resulted in a determination that new application is required.
Changes: Definitions
Freshwater wetlands: Now defined as the resource area only (i.e. bog, marsh, swamp, vernal pool, pond, river, etc.). Upland areas previously called perimeter and riverbank wetlands consolidated into "Jurisdictional Areas"
Jurisdictional Area: New term for the land and waters subject to regulation; includes freshwater wetlands, buffers, floodplains, areas subject to storm flowage, areas subject to flooding and contiguous areas extending outwards

200' from the edge of a river, stream or drinking water supply reservoir
100' from all other wetlands (including ponds)

Buffer Zone: New term for the land that is contiguous to a freshwater wetland and within which vegetated buffer should be maintained or in some situations created. Buffer zones are designated within or up to the limit of the jurisdictional area
Buffer: New term for area of undeveloped vegetated land that is to be retained in its natural undisturbed condition (Buffers can be created)
Changes: Exempt Activities
All exemptions are subject to certain conditions and limitations specified in the rules.
Within the Jurisdictional Area:

Cutting or maintenance of vegetation within lawns or landscaped areas consistent with other approvals
Forest management practices in response to an event-specific emergency in consultation with the Division of Forest Environment
Cutting within a floodplain that is located outside of all freshwater wetlands and their 100/200-foot jurisdictional areas
Cutting of vegetation for routine maintenance of approved landfill or remediation caps
Maintenance or repaving of existing parking lots with size limits
Addition of gates or barriers at existing or approved driveways or access roads
The installation of small signs associated with conservation activities
Crossing of or relocating an area subject to storm flowage
Restoration of wetlands resulting from unauthorized alterations associated with an enforcement action
Establishment of a new pedestrian trail outside of wetlands and buffer zones. 
Changes: Regional Framework for Tiered Protection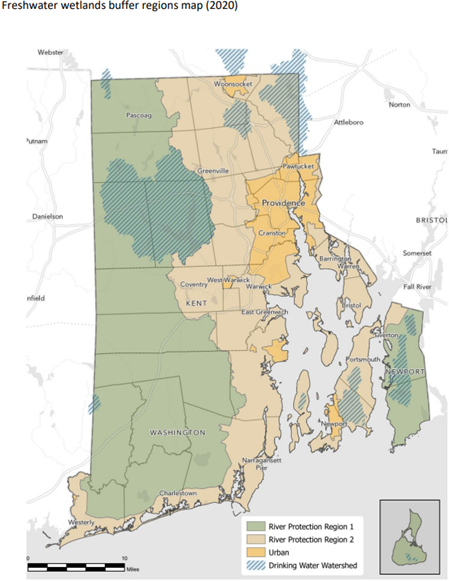 The state is divided into regions to facilitate the application of a range of buffer zones that reflect a gradient of watershed conditions. The regions consist of urban areas and non-urban areas – the latter of which is further divided into two regions to distinguish certain river buffer zones. In addition, requirements in drinking water supply watersheds were incorporated as an overlay in the non-urban regions.
River Protection Region 1
Watershed areas that are generally the highest priorities for conservation of fish and wildlife habitat.
Areas in the western and southeast portions of the state as well as Block Island
Low density of development, lower percentages of impervious cover and contain larger tracts of unfragmented habitat. 
River Protection Region 1 covers 52% of Rhode Island's area (coastal waters excluded)
River Protection Region 2
Mix of land uses and watershed characteristics including urban, suburban and rural settings
Existing land use patterns have resulted in greater fragmentation of buffers within the jurisdictional areas in this region including crossings of rivers
Much of the suburban development that exists adjacent to the Urban Region areas. 
River Protection Region 2 covers 40 % of Rhode Island's area (coastal waters excluded)
Urban Region 
Densely developed, urbanized areas of the state including portions of watersheds that contain high percentages of impervious cover and areas that are already highly developed or altered
Providence metropolitan area as well as portions of Woonsocket, Newport and West Warwick and Westerly
The Urban Region covers 8% of Rhode Island (excluding coastal waters)
Water Supply Reservoir Overlay
Additional buffer zone protection is provided for in the watersheds of public drinking water supply reservoirs listed in the Rule 3.23
Greater protection of the reservoirs, rivers, and ponds contiguous to the rivers, is considered warranted due to the increased risk of transporting pollutants to drinking water supplies. Buffer zones for the reservoirs and such rivers and ponds are therefore afforded more protection regardless of what Region the watershed is located within.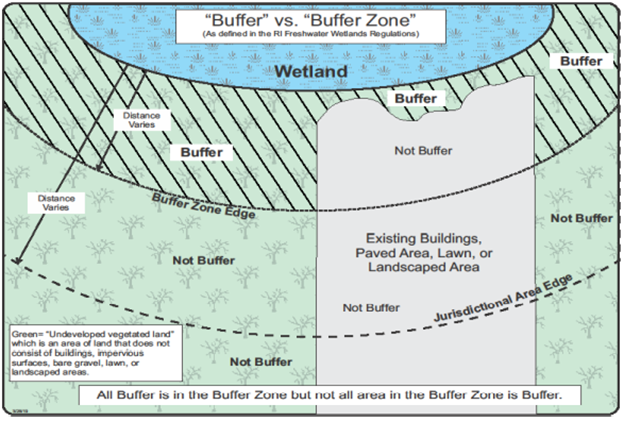 Changes: Buffer Zone – Rivers & Streams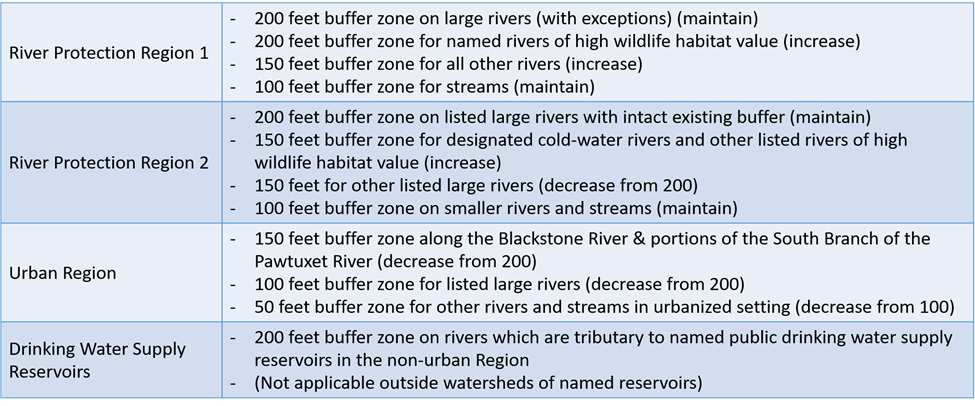 Changes Buffer Zone – Lakes and Ponds

Changes: General Permit (New)
General Permit (§3.10)
Designed to reduce submittal requirements, limit department review, and provide quick decision for projects that have limited risk for impacts.
Only for projects with < 1 acre of land disturbance

Individual Residential Construction & Accessory Structures
Limited Projects associated with existing developed properties (additions, garages, tennis courts, landscaping, OWTS…)
New development outside of designated buffer zones
Stormwater Retrofit Projects 
§ 3.7.3 Variances (NEW)
Requirements for obtaining a variance
Impact Avoidance & Minimization
All review criteria must be satisfied.
Standards cannot be met due to site conditions.
Relief requested is the minimum needed for reasonable use of the property.
Variance request is not due to prior action of the applicant.
Meeting the standard would cause undue hardship.
The project serves a necessary public purpose that provides benefits to the public.
Changes: Municipal Coordination
Notification of designated municipal officials of when applications for permits are filed with state agencies
Opportunity to provide local input while maintaining timeliness within the state permitting programs
Phase Out of Municipal Ordinances After 7/1/2022, municipalities are no longer authorized to adopt or apply local zoning-related ordinance requirements for wetlands buffers/setbacks or OWTS setbacks to new applications filed with the City or Town.
Links and Further Reading: