GZA has over 40 years of experience in the construction sector.
We are professional boots on the ground with you, ready to provide timely and value-engineered solutions to keep your project moving on track.
Focused primarily on horizontal construction projects, we have successfully completed countless bridge, foundation, tunnel, utility, road, and highway projects since 1964, working for some of the largest general contractors and specialty subcontractors in the country. 
Strengthened by the support of GZA's full complement of services, our Contractor Services Division has the ability to go beyond traditional services to address geotechnical, structural, and civil engineering requirements as well as environmental, water, and ecological issues without needing to go out of house.
The project staff has been very responsive and knowledgeable during all aspects of construction to date.  When presented with a challenge (either due to site logistics or the client's request) they have been completely engaged on finding a solution and making sure a quality product is produced.  I can't speak highly enough of the project team with GZA.
Geotechnical Instrumentation
GZA has provided comprehensive services and solutions for complex underground construction projects for over 50 years. 
From program management, planning, and design, through installation, monitoring, and evaluation, GZA provides instrumentation and testing systems to owners, engineers, and contractors on projects above and below ground. Just as ground behavior varies from site to site, so do the goals of our clients.
We have completed thousands of instrumentation programs and have established ourselves as one of the finest geotechnical field measurement organizations in the country. Our extensive field capabilities are supplemented by our predictive modeling, data management, theoretical analysis, design and report preparation strengths.
Our knowledge of the technology and business risks to be managed within the highest management levels of GZA, our technical depth not only on the technology of instrumentation but also on geotechnical and structural components of the work, and our understanding of the client's project-specific needs and risk tolerance makes us uniquely suited to the challenges contractors face.
Click back arrow to return to menu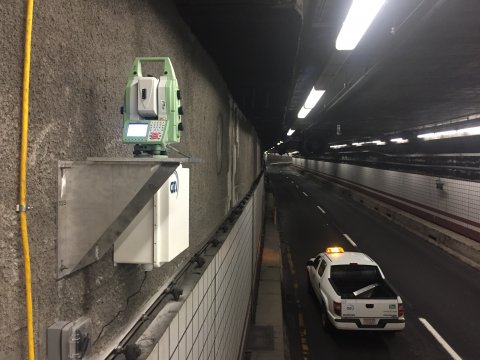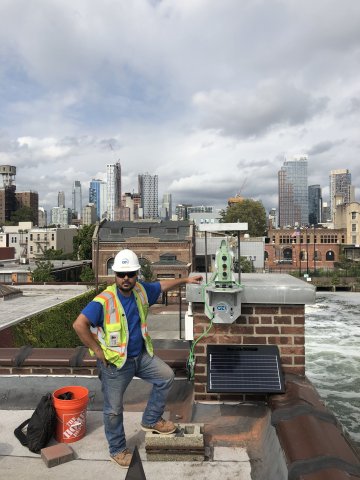 Automated Data Acquisition Systems
Automated Total Stations (Survey)
Vibration Monitoring Deformation of Soil and tock
Loads on Ground Support Systems
Stress and Deformations of Tunnel Lining Systems
Inclinometers, Extensometers, Piezometers, Strain Gages, GPS, Liquid Level System, et cetera…
Foundation Testing (Dynamic Load Testing, Cross-hole Sonic Logging, Thermal Integrity Profiling, etc.)
Soil and Rock Pressure
Groundwater pressure
Settlement and Cracking of Buildings
Real-time Web-based Data Presentation
Construction Field Control & Monitoring
GZA understands our clients' needs, and we provide a sensible scope of testing and professional quality assurance/quality control to enhance the overall value of a project.
We work closely with owners, contractors, developers, architects, and specialty subcontractors to monitor and document foundation construction for adherence to the project plans and specifications and our recommendations.
Our staff of engineers, geologists and technicians are experienced in construction quality control testing and are focused on our clients' needs. We want your project to be a success and strive to provide attentive and responsive customer service knowing that, when it comes to construction, proactive communications, attention to details and adapting solutions to unforeseen field conditions during the construction phase, are essential for completing projects successfully. Doing the right things right, and at the right time, helps us to achieve compliance with the quality of work specifications within your schedule and budget.
Click back arrow to return to menu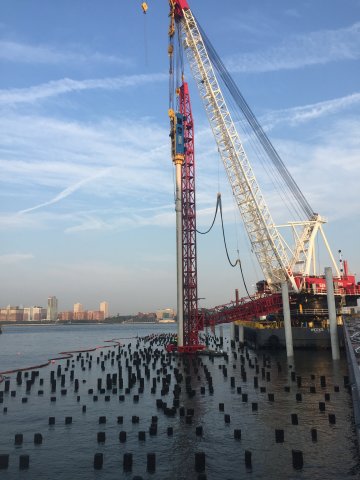 Soil Density Testing  (Troxler)
Construction Control Testing 
Deep Foundation Installation Monitoring
Earth Retention System Monitoring
Ground Modification Control
Geotechnical and Environmental Laboratory Testing
Concrete Field Testing
GZA has been in performing non-destructive testing on both large and small deep foundations projects, both on land and offshore, since the 1960's.
GZA has the experience in the Northeast. Solely focused on the construction industry, GZA's Contractor Services Division is intimately familiar with the complexities of heavy civil, heavy highway, and marine construction projects and can address upcoming activities, as well as unforeseen factors, swiftly. We are boots on the ground with you, solving issues in the field and offering timely and cost‐effective solutions to help keep your project moving forward. Our qualified team includes personnel with over 35 years of high‐profile experience in PDA and deep foundations testing. 
Click back arrow to return to menu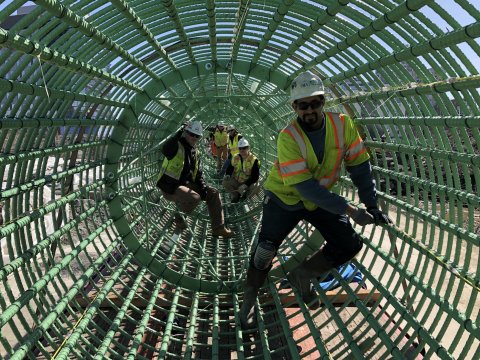 Thermal Integrity Profiling (TIP)
Wave Equation Analysis (WEAP) 
Dynamic Load Testing (PDA)
Static Load Testing (SLT)
Pile Integrity Testing (PIT)
Cross-Hole Sonic Testing (CSL)
SPT Rig Hammer Calibration
Existing Foundation Evaluation
Excavation Support Design
GZA is routinely engaged in the design of support of excavation systems required for underground foundation and utility construction.
For both temporary and permanent support systems, GZA uses state-of-the-art modeling methods and other analytical tools including finite element analyses to prepare complete design packages from simple cantilever wall systems to braced excavation systems for deep cuts requiring multiple support levels.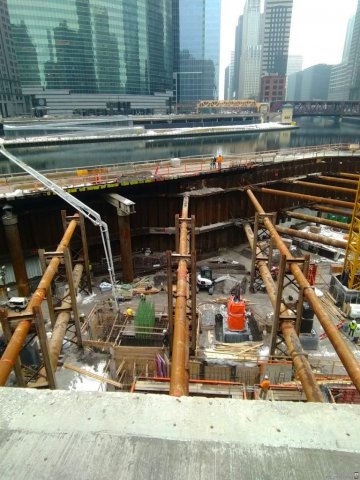 Click back arrow to return to menu
Internally Braced Excavations
Tieback Supported Excavations
Tierod & Deadmen Supported Excavations
Soldier Pile and Lagging Walls
Secant and Tangent Pile Walls
Soil-Mix Walls
Sheet Pile Walls
Slurry Walls
Soil Nail Wall
Retaining Walls
Cofferdams
Dewatering systems are often an essential component of a project's design, especially in congested urban areas which could have a significant impact on the soil condition at adjacent properties. 
As urban redevelopment and transit projects increasingly rely on the use of support of excavation, altering water table within the vicinity of existing structures, and preventing groundwater from entering an excavation is essential in ensuring safety and providing a dry environment to complete the work.
Click back arrow to return to menu
Hydrogeologic Modeling
Pump Testing
Grouting Systems
Permanent Underdrains
 
Hazardous Waste & Contaminated Materials Management
Successful management of site contamination is contingent upon finding cost-effective options designed to meet regulatory requirements.
Toward that goal, GZA provides the services necessary to properly handle and dispose of waste products. Our clients receive documentation describing the characteristics of the contaminated materials and corresponding paperwork indicating that disposal activities were performed in accordance with regulatory standards. Characterizing waste, handling and packaging contaminated materials, and preparing the documentation are the preliminary steps GZA takes prior to actual transport and disposal to limit clients' exposure to potential liabilities.
Click back arrow to return to menu
Waste Characterization
Handling and Packaging
Documentation Services
Transport and Disposal
Pre- and Post-Construction Structural Condition Surveys
Surveys are a powerful tool to limit risk and liability when performed prior to construction activities.
By recording pre-existing conditions, contractors have a record of adjacent structures in the event that claims are made for damages caused by construction activities.  Post-construction surveys are a helpful visual confirmation to have if damage is alleged. The Pre- and Post- surveys can be compared side by side to confirm if claimed damages have occurred. Typically, representative high-definition photos are taken along with a detailed narrated high definition video. The pre-construction survey can be complemented with the installation of optical crack gauges on existing cracks, automated deformation monitoring, and vibration monitoring within the site vicinity during construction.
Click back arrow to return to menu
High-Definition Photography and Video
Pre- and Post- Condition Survey Services
Monitoring Instrumentation Services
Deformation Monitoring
 
Air Quality, Noise & Vibration Monitoring and Analysis
During construction, monitoring of air quality, noise, and vibration can prevent "cease and desist" orders, ensure the health and safety of workers, and prevent damage to adjacent structures
Our solar powered automated systems are also capable of remotely monitoring, reporting, and sending automated alerts for Air Quality (Dust (PM2.5 and PM10), O3, CO, NO, and NO2) and Weather (Rainfall, Wind Speed, Pressure, Humidity, and Temperature).
Additionally, prior to beginning work, assessing pre-existing conditions help establish baseline levels and construction limits for these parameters. Completing pre-construction surveys is an invaluable tool in limiting risk and retaining value throughout the project. GZA provides such pre-construction and construction monitoring services and assists with mitigating measures as necessary.
These systems can be installed and left in place for a prolonged period of time when the application warrants it. Or for a more immediate response, an engineer will be on site to monitor the equipment fulltime to provide results and warn others of approaching limiting values.
Click back arrow to return to menu
Air Monitoring
Vibration Monitoring & Analysis
Weather Monitoring
Noise Monitoring
Seismograph Rental
Periodic Data Reports
 
Pre-Bid & Value Engineering
GZA assists contractors with creative approaches to construction, maximizing your chances of winning the bid by providing economical solutions.
We understand the client's budget and time constraints and we proactively work within those parameters to achieve compliance with the design basis criteria. Our team of engineers has the experience to envision alternative concepts resulting in schedule and cost-savings for a project without comprising safety or quality.
Click back arrow to return to menu
Pre-Bid Estimating
Project Evaluation
Conceptual Design
Structural Construction and Demolition Engineering
GZA's Structural Engineers know structures. Heavy Civil, industrial, commercial, residential, waterfront, temporary, old or new construction – we understand how structures go together, how to temporarily support them, how to put them up, and how to take them down, in a safe, economical way. 
Our experienced construction engineers use the appropriate structural modeling methods tailored to complete design packages ranging from bridge demolition plans to finite-element analysis of existing structures for equipment loading.
Click back arrow to return to menu
Demolition Plans & Procedures
Erection Plans & Procedures
Bridge Falsework Design
Structural Analysis for Construction Loading
Worker Platform & Scaffold Design
Concrete Formwork Design
Bridge Jacking Plans
Shoring & Reshoring Design
Rigging Design and Critical Lift Planning
Lifting Device Design
Temporary Bracing Systems for Buildings
Our work speaks for itself.
Markets
Energy
Transportation & Infrastructure
Services
Geotechnical Engineering Services & Consultants
Construction Management
Contractor Services
Markets
Buildings & Real Estate Development
Services
Geotechnical Engineering Services & Consultants
Contractor Services
Waterfront and Coastal Engineering
Services
Geotechnical Engineering Services & Consultants
Construction Management
EHS Regulatory Compliance
Bio
Your success is ours.
Tell us about your project.
Image