Insights
U.S. EPA Announces New Drinking Water Health Advisories for Four PFAS Compounds
At a Glance
In June 2022, the U.S. Environmental Protection Agency (EPA), announced four new drinking water lifetime Health Advisories (HAs) for per- and polyfluoroalkyl substances (PFAS). Interim advisories were issued for PFOA and PFOS and final advisories were issued for PFBS and GenX.
The EPA, for the first time, issued final HA concentrations for PFBS (2,000 ng/L) and GenX (10 ng/L). A ng/L is a part per trillion or equivalent to one second in 32,000 years. However, the proposed interim concentrations for PFOA and PFOS are significantly lower.
The proposed interim HA concentrations for PFOA (0.004 ng/L, or 4 pq/L) and PFOS (0.02 ng/L, or 20 pq/L), in the parts-per-quadrillion (pq/L) range, are not only below the PFOA and PFOS levels previously specified by EPA (70 ng/L), but are also below the concentrations established by various state agencies. These proposed concentrations are two (PFOS) to ten (PFOA) orders of magnitude lower than the required laboratory Minimum Reporting Levels proposed under EPA's Unregulated Contaminant Monitoring Rule (UCMR5) for drinking water. Presently, commercial laboratories are simply not able to measure/detect the concentrations proposed in the EPA's interim health advisories for PFOA and PFOS.
The proposed HAs for PFOA and PFOS represent a change in approach in risk assessment principles and practices. Specifically, the most striking differences reflect the use of studies based on critical human, rather than animal, health effects. The tables below indicate the changes in various parameters on which EPA based its new interim health advisories. Of particular note is the fact that EPA released these HAs before its own Science Advisory Board had provided comments and/or recommendations, and some toxicology and risk assessment professionals question the validity of the assumptions behind these parameters. 
The EPA has indicated that it is moving forward with proposing a PFAS National Drinking Water Regulation in the fall of 2022. We urge affected parties to prepare for significantly lower guidelines.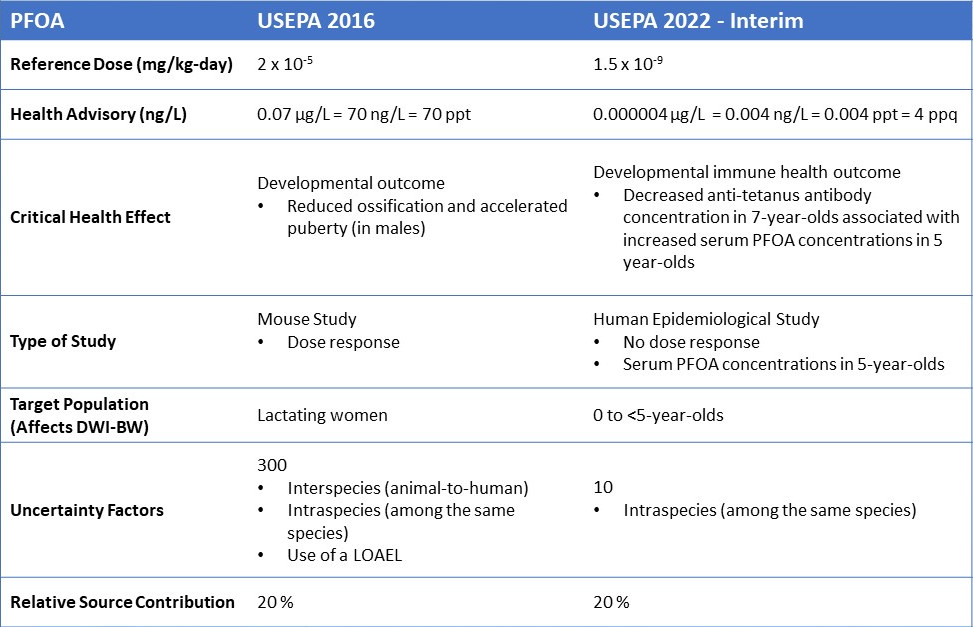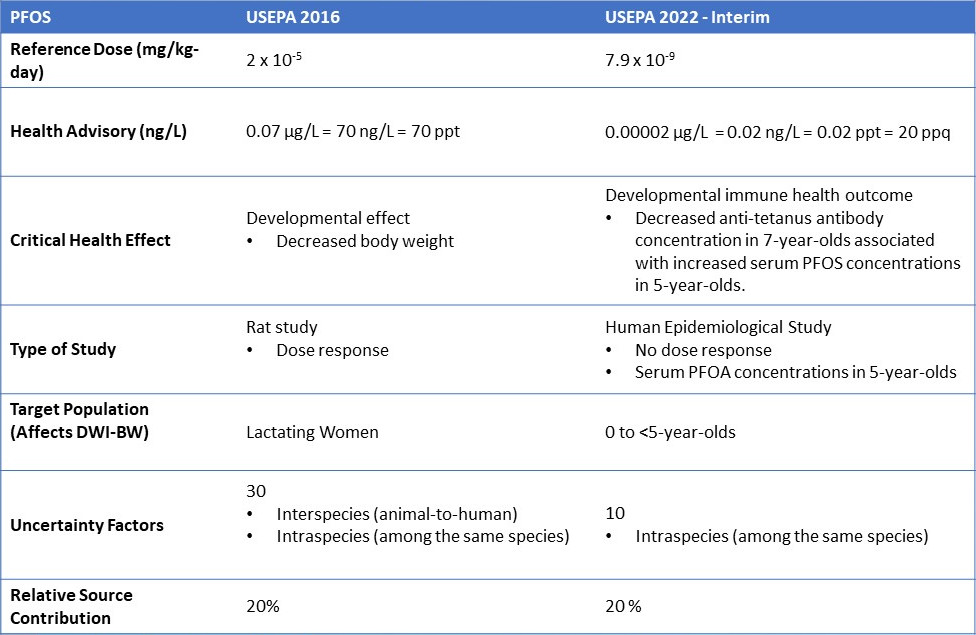 GZA continues to evaluate the literature on PFAS, including the studies that EPA used to develop its Health Advisories, and can help you put current and potential PFAS regulations into context and manage the resulting risks. For more information on our PFAS services, visit our PFAS Resource Center or contact Mr. Richard Desrosiers.